Create Volume and Waves with the Best Hair Curler - Luxx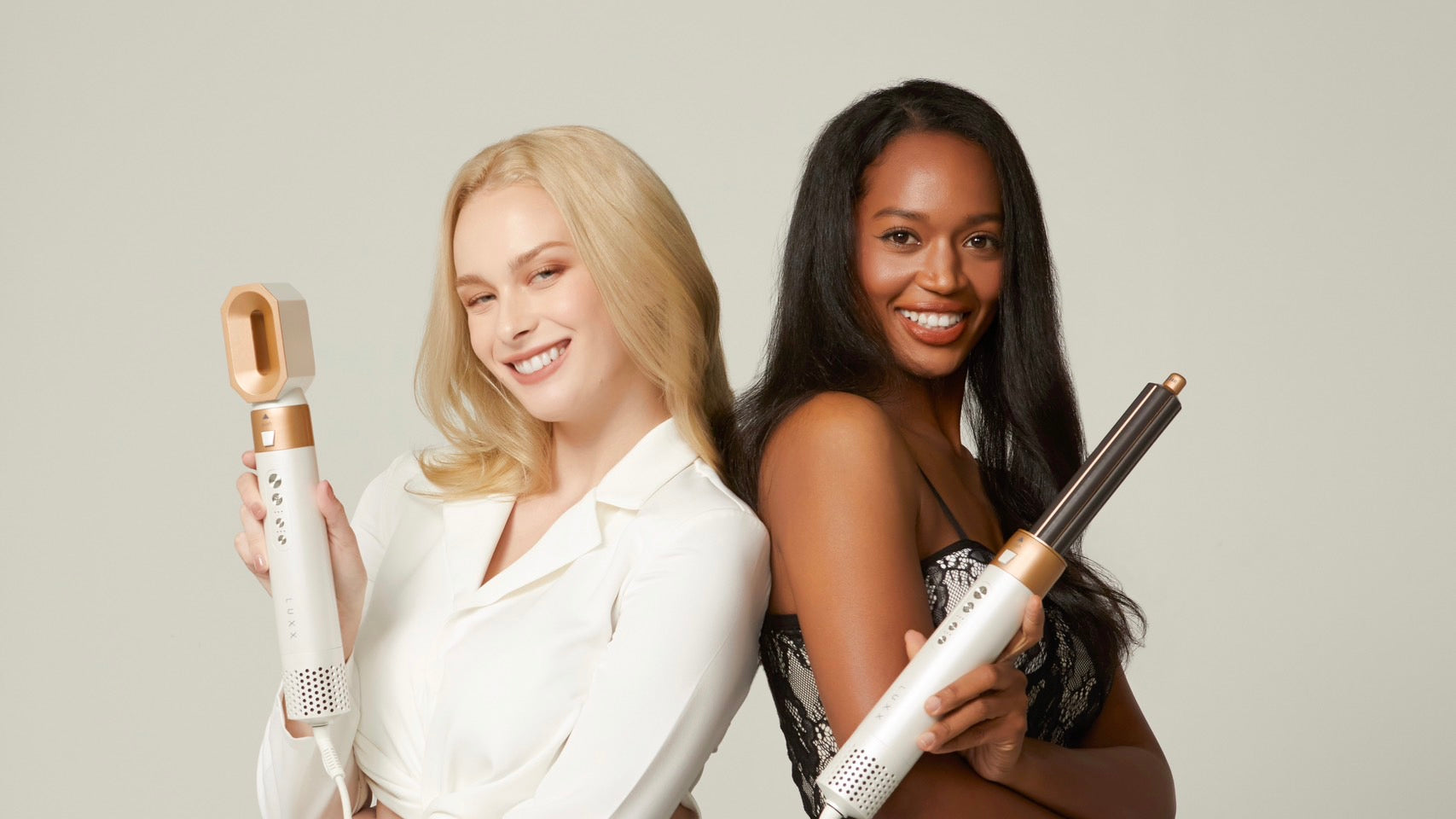 When it comes to achieving voluminous waves and glamorous curls, a high-quality hair curler is an indispensable tool in your styling arsenal.
The Luxx Air Pro™ 2 is the ultimate hair curler that combines advanced technology with ease of use, helping you effortlessly create stunning hairstyles.
So, let's delve into the features and benefits of the groundbreaking hair curler, highlighting why it is the right choice for achieving beautiful volume and waves.
Revolutionary Air Curling Technology for Effortless Styling
Experience a new era in hair styling with the Luxx Air Pro™ 2, featuring groundbreaking air curling technology that redefines hair styling.

By harnessing controlled airflow, this curler eliminates excessive heat. This minimizes the risk of heat damage while still delivering outstanding results.
Our Hair Styling Tools' innovative approach revolutionizes styling, making it easier and safer compared to anything in the past.

No longer are the days of worrying about heat-related hair damage. Hair styling tools like ours allow you to achieve stylish curls without putting excessive heat on your hair.
This automatic hair curler revolutionary technology ensures your hair remains healthy and vibrant, allowing you to style.
Experience the difference of effortless styling with the Groundbreaking hair curler machine and unlock a world of possibilities.
With this cutting-edge technology, you can achieve exceptional results while prioritizing the health of your hair at the same time.

Adjustable Air Flow and Heat Settings for Customized Styling
Despite whether you prefer loose waves or tight curls, the Air Curler effortlessly adapts to your styling preferences, granting you comprehensive styling control over your styling journey.
This exceptional curler boasts adjustable airflow and heat settings, empowering you to customize the curling process according to your unique hair type and desired look.
Customization is easy with our Air Styler. Easily adjust the airflow and heat settings to create the right styling environment for your hair, ensuring a tailored experience that suits your needs.
Furthermore, this curler caters to all hair types, whether fine, delicate strands or thick, voluminous locks. It guarantees optimal results every time, regardless of your hair's texture or thickness.
Effortlessly tailor your curls to match any mood or occasion. Whether you're aiming for casual beachy waves or glamorous, bouncy curls, our unique product empowers you to express any hairstyle.
Its adjustable settings provide a seamless styling experience, allowing you effortless styling.
Quick and Efficient Styling with Advanced Air Circulation
Experience the incredible speed and efficiency of Luxx Culer's advanced air circulation system. This innovative feature enables rapid heating and guarantees even airflow distribution throughout your hair.
Thanks to the Best Professional Hair Dryer's cutting-edge technology, you can achieve voluminous waves and curls in a fraction of the time of traditional curling methods. 
No more waiting around for your hair to style—this automatic curler accelerates the process, allowing you to enjoy stunning results in record time.
With its advanced air circulation system, our revolutionary device ensures that every strand of hair receives the correct amount of heat and airflow.
This means you can say goodbye to unevenly styled curls and hello to flawless, salon-worthy results.
Ionic Technology for Smooth and Frizz-Free Hair
Uncover the extraordinary capabilities of Luxx Air Pro™ 2 Curler's built-in ionic technology. This state-of-the-art feature releases negative ions that effectively neutralize positive ions in your hair, resulting in minimized frizz and static.
The outcome? Impeccably smooth, lustrous curls that radiate polished perfection.
Give a fond farewell to pesky frizz and static, and welcome picture-perfect waves and curls that maintain their shape and definition throughout the day.
With embodied modernity and advanced technology, you no longer need to worry about your hairstyle losing its charm as the hours go by. Embrace the confidence of flaunting flawless curls from morning till night.
Not only does our innovative tool's ionic technology combat frizz and static, but it also transforms your overall styling experience. 
Revel in the beauty of silky-smooth strands with a healthy shine. Let the transformative effects of ionic technology elevate your hair game to new heights.
Lightweight and User-Friendly Design
Indulge in the exceptional design of the Luxx Air Pro™ 2, crafted with a lightweight and ergonomic build that enhances your styling experience.
Its featherlight construction makes it easy to handle and maneuver, ensuring effortless styling sessions.
Designed with your comfort in mind, the Luxx Air Pro™ 2 features a comfortable grip that prevents hand fatigue, even during lengthier styling sessions.
Say goodbye to discomfort and embrace the ease of creating stunning hairstyles without strain.
Additionally, the cord swivels 360 degrees, allowing for hassle-free movement while styling and no more tangled cables or limited mobility. With this innovative feature, you can effortlessly create stylish hairstyles with flexibility and ease.
Experience the joy of effortless styling with the lightweight and user-friendly design. Our innovative curler allows you to unleash your creativity without limitations.
Enjoy a seamless and enjoyable styling experience that brings your desired hairstyles to life.
Come and be part of our TikTok community dedicated to effortless, beautiful, heatless curls.
Immerse yourself in our wide array of tutorials and delve into the world of stunning curls without heat.
Uncover the secrets of damage-free hair styling and explore our mesmerizing hair tutorials. Join us today and unlock heatless curl magic together!
Being a working woman means juggling multiple responsibilities, leaving you with a very short time for yourself. Amid a hectic schedule, dealing with problematic hair days can be frustrating.
But fret not! Luxx Curler is the game-changing hair styling tool designed to transform your tresses from drab to fab with ease. 

Not only does our curler create stunning curls, but it also offers versatile styling options. Experiment with different curl patterns, try out beachy waves, or even straighten your hair effortlessly using this multifunctional tool. 
No need to invest in multiple hairstyling devices when the curler can do it all.
Don't let your busy schedule as a mom, office lady, or housewife stop you from having glamorous hair! With our unique product, styling your hair at home is easy.

Being a mom is a full-time job, and finding time to visit a salon can be impossible. Luxx Air Pro™ 2 rescues busy moms by providing a convenient solution for styling hair at home.
Whether you have five minutes or an hour, this innovative tool allows you to create gorgeous hairdos without compromising your busy schedule.

As an office lady, you need a hairstyle that exudes professionalism and confidence. innovative solution hair curler makes it incredibly easy to achieve elegant and sophisticated hairdos at home.
From sleek updos to voluminous curls, this versatile tool ensures you're ready to make a lasting impression in any professional setting.

Housewives often juggle various responsibilities, leaving them with limited self-care time. Our curler simplifies hairstyling for everyone, enabling them to effortlessly transform their everyday look into glamour.
Whether you want loose waves for a casual outing or an intricate braid for a special occasion, our Curler lets you experiment with different styles easily.

With Luxx, you no longer need expensive salon visits to achieve salon-worthy hairdos. This advanced hair styling tool utilizes cutting-edge technology and professional-grade features to deliver exceptional results.
From impeccable curls to sleek and straight locks, Luxx Air Pro™ 2 ensures you turn heads with your stunning hairdos.

When it comes to date night, women want to look fabulous from head to toe. However, hair styling can often be a source of worry and stress. Say Bye Bye to those concerns because our innovative Air Pro™ 2 Curler is here to save the day!
This innovative hair styling tool allows you to effortlessly create stunning hairdos that complement your overall look and make your date night truly unforgettable.
Why spend a fortune in a salon when you can achieve salon-quality results at home?
Revolutionary
rotating hair curler
utilizes advanced technology and high-quality materials to deliver professional-grade performance. 
Experience the same level of perfection as a professional stylist, all with the convenience of doing it yourself.
Don't let hairdo worries ruin your date night.
Futuristic
Curler ensures long-lasting results that stay intact throughout your evening. 
With its advanced heat technology and superior curling capabilities, your hair will maintain its fabulousness until the last moment. This will allow you to enjoy your date with confidence.
Get your Luxx Air Pro™ 2 today and unlock a world of endless possibilities to create glamorous hairdos with just a fingertip away!
Achieve stunning volume and waves effortlessly with the
best automatic hair curler
UK, a
dvanced
revolutionary technology, adjustable settings, quick styling, ionic features, and user-friendly design making it the ultimate choice for achieving gorgeous hairstyles.
Level up your hairstyling routine with our curler and enjoy gorgeous, voluminous waves that steal the spotlight wherever you go.
---