How To Curl Hair With A Curling Iron Without Heat Damage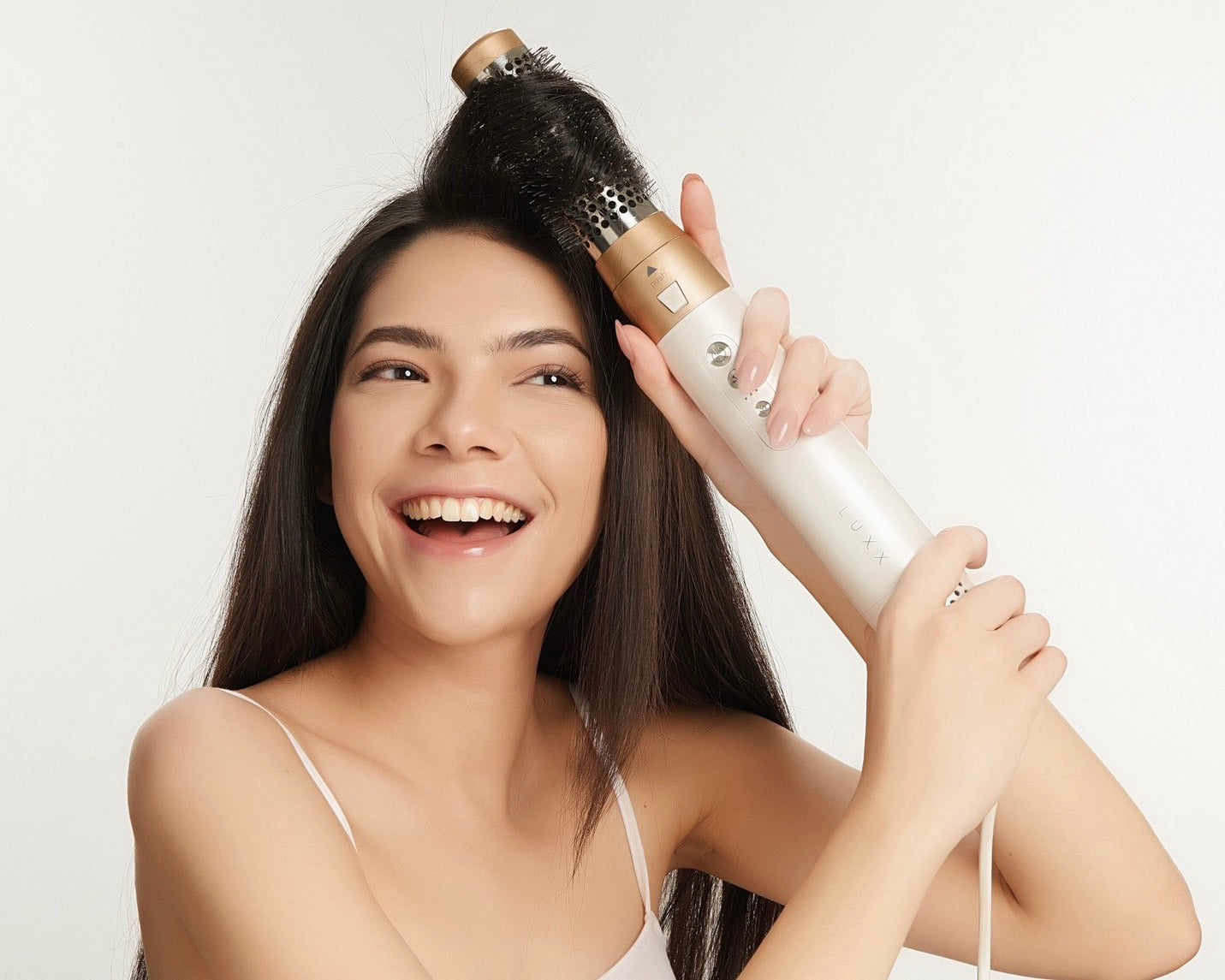 Have you ever found yourself frustrated and burnt while using a curler? It's not just the difficulty of handling it but also the precious time wasted, especially when you're in a hurry or have an important event.
And despite all the effort, you still end up with a dreaded bad hair day.
But fret no more! Say goodbye to hair styling mishaps with the revolutionary LUXX Air Pro™ 2 Hot Air Styler, expertly crafted by women, for women.
This cutting-edge styler guarantees a burn-free experience and protects your hair from extreme heat damage.
Understanding the LUXX Air Pro
™
2 5-in-1 Air Wrap Hair Dryer
Are you tired of damaging your hair with excessive heat from traditional curling irons? Look no further! With the LUXX Air Pro™ 2 5in1 styling tools your hair can achieve stunning curls without heat damage.
Our innovative hair tool comes with auto-wrap curling barrels, a pre-styling attachment, a smoothing brush, and a volumizing brush, making it the perfect all-in-one solution for beautiful, heatless curls.
In the 'How To Curl Hair With A Curling Iron Without Heat Damage' article, we will guide you through five easy steps to curl your hair using the Air Pro™ 2 while keeping your hair healthy and damage-free.
Step 1: Prepare Your Hair
Before you start curling your hair, it is crucial to prepare it properly. Begin by washing and conditioning your hair with a hydrating shampoo and conditioner to ensure it is in its best condition.
After towel-drying or Using Pre-Styling of LUXX Air Pro™ 2 dry your hair gently and apply a heat-protectant spray from root to tip.
This step is essential to shield your hair from potential damage caused by heat styling.
Step 2: Select the Right Barrel
The LUXX Air Pro™ 2 hair dryer is an exceptional tool for perfect curls! This innovative hair dryer features two auto-wrap curling barrels, each specially crafted to cater to different curl styles.
To create those loose, voluminous waves with inward curls, choose the clockwise barrel. On the other hand, if you're aiming for beautiful outward curls, opt for the anticlockwise barrel. Whichever style you prefer, the Air Pro™ 2 has you covered.
Step 3: Section Your Hair
Divide your hair into small, manageable sections using hair clips or ties. Working in smaller sections will make curling easier and more effective.
Start with the bottom layer of your hair and work your way up to the top. This technique ensures that all sections of your hair receive equal attention and produce consistent curls.
Step 4: Curling Technique
Take a small section of hair and place it between the Air Pro™ 2's auto-wrap curling barrel. Hold the barrel in place for a few seconds to set the curls without heat. Repeat this process for each hair section, working through one layer at a time.
Step 5: Finishing Touches
After curling all sections of your hair, allow the curls to cool completely before touching them.
This will help the curls set and last longer. Once cooled, gently tousle your curls with your fingers or a wide-toothed comb to achieve a natural look.
For added volume, use the Air Pro™ 2's volumizing brush to brush through your curls gently. To smooth any frizz or flyaways, finish off with the smoothing brush for a polished and sophisticated hairstyle.
Say Goodbye to Heat Damage with LUXX Air Pro™ 2 5in1 Hot Air Styler: Hello Fabulous Heatless Curls!
Curling your hair without heat damage is now a reality, thanks to the LUXX Air Pro™ 2 5in1 hot air styler.
Following the simple steps outlined above, you can achieve beautiful, long-lasting curls without compromising your hair's health.
With the Air Pro™ 2, you can confidently rock stunning curls while keeping your hair healthy and damage-free. Say goodbye to heat damage and hello to fabulous heatless curls!
---