Simplify Haircare: 5-in-1 Hot Air Styler for Busy Women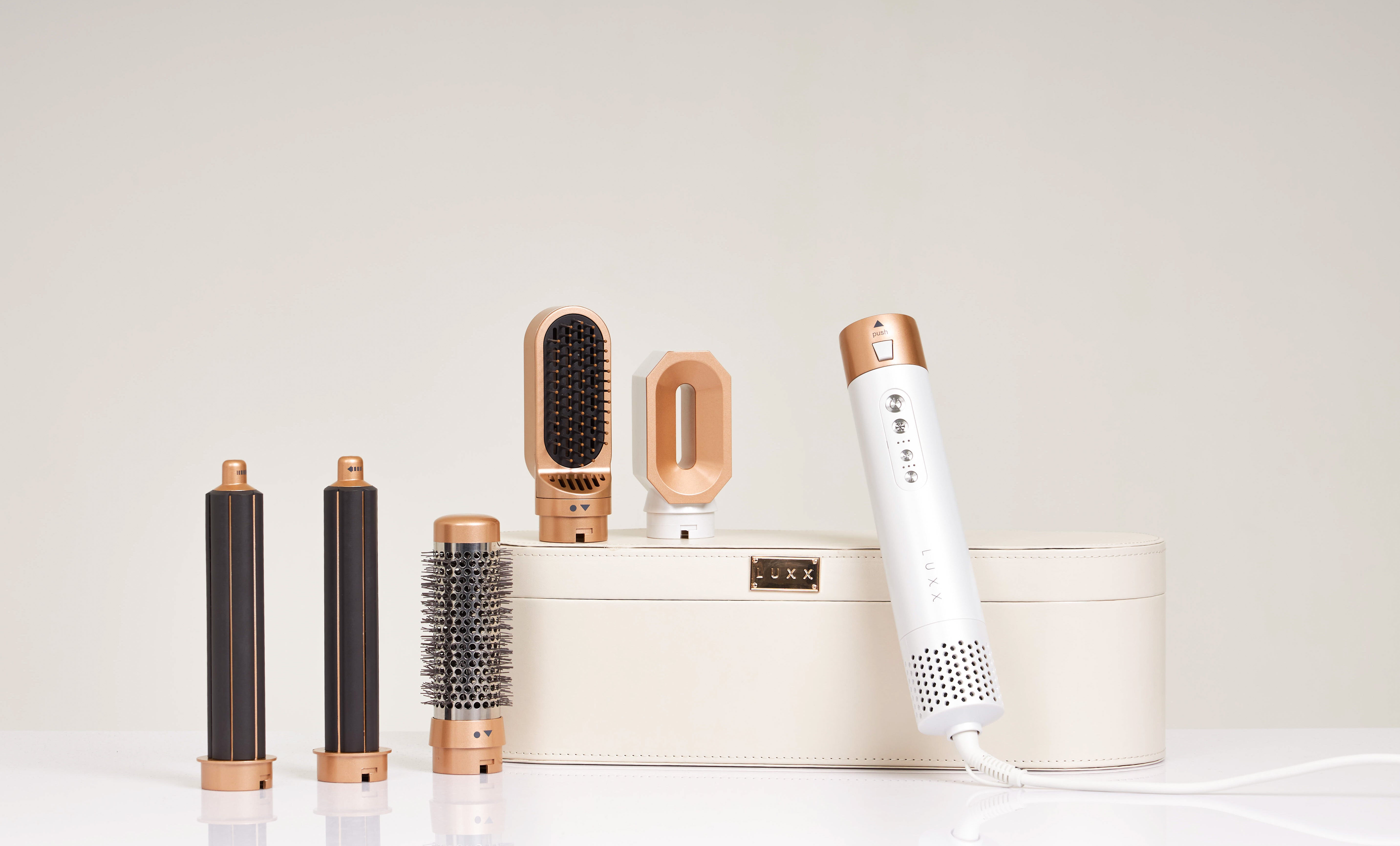 Versatility and Convenience Combined
Are you a busy woman constantly on the go, juggling multiple responsibilities and trying to look your best?
We understand that maintaining a fabulous hairstyle while managing a hectic schedule can be a challenge. 
That's why we're excited to introduce the Luxx Air Pro™ 2 5 in 1 Hot Air Styler – the ultimate time-saving hair tool designed specifically for women like you!
Pre-Styling: A Solid Foundation for Your Hair
The 5 in 1 Hot Air Styler starts by prepping your hair for styling. 
The pre-styling function is designed to dry your hair gently, minimizing heat damage and reducing frizz.
By using this feature, you can ensure that your hair is ready for the next step, whether it's straightening, adding volume, or creating bouncy curls.
Smoothing Brush: Sleek and Straight in Minutes
For busy women who prefer smooth, straight hair, the smoothing brush attachment is a game-changer. 
This Hair dryer brush effectively tames unruly locks, leaving your hair looking effortlessly sleek and well-groomed.
With the hot air stream, the smoothing brush straightens your hair while maintaining its natural shine, giving you a salon-quality finish in a fraction of the time.
Volumizing Brush: Bouncy Hair with Effortless Ease
When you desire added volume and body, the volumizing brush attachment is the way to go. 
This specialized brush is designed to lift your roots and add bounce to your hair, making it look fuller and more voluminous. 
With the 5 in 1 Hot Air Styler, you can achieve that coveted blowout look without having to visit the salon, saving both time and money.
Curling Barrels: Embrace Versatility 
For those occasions when you crave beautiful curls or waves, the air wrap curling barrels are here to make your dreams come true. 
With 2 curling barrels clockwise and anti-clockwise, you can experiment with various curl styles, from loose beach waves to tight curls. 
The hot air feature ensures even heat distribution, protecting your hair from excessive damage caused by traditional curling irons.
5 Easy Hairstyles for Busy Women
In today's fast-paced world, juggling work, family, and social commitments can leave little time for elaborate hairstyling.
As busy women, we often search for quick and efficient ways to look put together without sacrificing precious moments. Thankfully, the Luxx Air Pro 2, a revolutionary 5 in 1 Hot Air Styler, has come to our rescue.
Effortless Waves
To add volume and subtle curls to your hair, the volumizing brush attachment is your go-to option. After pre-styling your hair, use the volumizing brush to lift your roots and add body to your locks.
This hairstyle is ideal for creating a relaxed and effortless appearance, making it perfect for casual outings or brunch with friends.
Sleek and Straight
The smoothing brush attachment of the 5 in 1 Air Styler is perfect for those days when you want a sleek and polished look. 
Start by using the pre-styling function to dry your hair gently. Then, switch to the smoothing brush attachment, which will effortlessly straighten your hair while reducing frizz and maintaining its natural shine. 
Within minutes, you'll have a chic and professional look that is suitable for the office or a night out.
Voluminous Curls
Whether you have naturally curly hair or desire bouncy curls for a special event, the air wrap curling barrels are here to deliver. 
Select the curler barrel side (clockwise or anticlockwise) that suits your preferred curl style and let the hot air styler work its magic and in no time, you'll have beautiful curls that are full of life and vibrancy.
Half-Up Half-Down
The half-up half-down hairstyle is a timeless classic that works for various occasions. 
Achieving this look with the 5 in 1 Hot Air Styler Set is a breeze. Begin by using the smoothing brush to straighten your hair. Then, take the front sections of your hair and gently gather them into a half-up ponytail. 
You can leave it as it is for an elegant touch or use the air wrap curling barrels to add some soft curls to the loose hair for a more romantic vibe.
Messy Bun 
For those days when you need a quick and effortless hairstyle, the messy bun is your savior. 
Start by using the volumizing brush to add some texture and volume to your hair. Then, gather your hair into a high or low ponytail and secure it with an elastic band. 
Twist the ponytail loosely and wrap it around the base, securing it with bobby pins. Allow a few strands to fall naturally for a relaxed and chic messy bun.
Simplify Your Hair Routine Today!
With the 5 in 1 Hot Air Styler and these five easy hairstyles, you can simplify your hair routine and still rock fabulous looks no matter what the day brings.
Luxx Air Pro™ 2 will save you time, space, and effort while ensuring you always look your best.
Say goodbye to juggling multiple hair tools and hello to effortless styling. Try it out today and experience the convenience of a salon-worthy hairstyle at your fingertips.
---