Best Lightweight Hair Dryers for Effortless Styling Hair - Luxx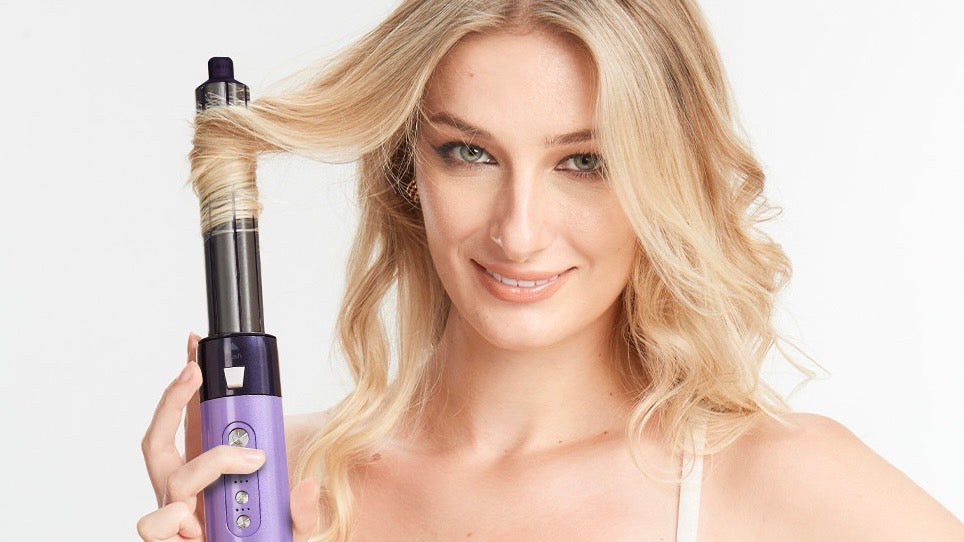 Benefits of Lightweight Hair Dryers
In the world of hairstyling, achieving a picture-perfect salon look relies heavily on using the right hair tool.
One essential tool that has become a must-have in the selection of both professional hairstylists' and individuals' grooming routines is the lightweight hair dryer.
This article will explore two exceptional lightweight hair dryers: the Air Pro™ 2 Lite and Amethyst Ionic Hair Dryer.
Let's look at their unique features, and advantages, and explain why they are the right choices to achieve effortless styling.
Maneuverability
When styling hair on the go, having excellent maneuverability is crucial for achieving salon-quality results without straining your wrist and arm.
With our Luxx Air Pro™ 2 lightweight hair dryer, you can effortlessly handle and control your hair dryer, significantly minimizing strain during styling sessions.
In just a few minutes, you can achieve professional-looking results without discomfort.
Our hair dryers are designed exclusively for easy handling and precise control during styling sessions.
By reducing the strain on your wrist and arm, these hair dryers guarantee a comfortable and enjoyable experience while styling your hair.
Travel-Friendly
Efficient packing is crucial for women who frequently travel and are always on the move.
When it comes to packing, the Air Pro™ 2 Lightweight hair dryer would suit best to be your travel hair dryer because they are the shining stars of 2023.
Carefully crafted by women, for women, Air Pro™ 2 Lite boast lightweight and compact designs that make them perfect companions for both travel and everyday use.
They occupy minimal space in your luggage, allowing you to maximize your packing capacity.
However, don't be fooled by their compact size. We guarantee that our hair dryers will deliver flawless blowouts wherever and whenever you need them.
Quick and Efficient
Discover the incredible speed of our hair dryers as they effortlessly dry your hair in no time.
Thanks to their powerful motors, our hair dryers provide swift drying capabilities, allowing you to style your hair in a fraction of the usual time.

Luxx Air Pro™ 2 hair dryers shine with their exceptional agility and outstanding drying performance.
Featuring state-of-the-art Hypersonic V.2 motors, our hair dryers ensure rapid drying times, giving you back precious minutes in your morning routine.

With the Air Pro™ 2 Lightweight hair dryer, achieving your desired hairstyle is a breeze compared to traditional dryers.
Within moments, your hair will be perfectly styled, leaving you more time to savor the day ahead, free from worries.
Let's Explore 3 Trendy Hairstyles You Can Achieve Effortlessly with Our Lightweight Hair Dryer
For a quick and stylish updo, the Air Pro™ 2 Lite and Amethyst hair dryers provide the necessary airflow and lightweight design to create a stunning look.
Step 1: Start by blow-drying your hair using the pre-styling attachments of our lightweight hair dryer Air Pro™ 2 on a low heat and speed setting. Focus on creating volume at the roots.
Step 2: Gather your hair into a high ponytail or bun, leaving a few face-frame strands loose if desired.
Step 3: Twist or wrap the ponytail into a bun, securing it with bobby pins as needed.
Step 4: For a ponytail, use a curling barrel to create stunning and vibrant curls in the tail. and apply the same step to the strands framing your face, curling them for added elegance.
Step 5: Finish the look with a spritz of hairspray to ensure your updo stays in place throughout the day.
If you dream of effortless, voluminous waves, the Air Pro™ 2 Lite and Amethyst hair dryers can help you achieve your desired beachy look.
Step 1: Start with towel-dried hair and apply a volumizing mousse or spray to add texture and hold.
Step 2: Flip your head upside down and dry your hair using our Pre-styling attachment with Luxx Lightweight hair dryer on a medium heat and speed setting. Scrunch your hair with your fingers to encourage natural-looking waves.
Step 3: Once your hair is mostly dry, flip your head back up and separate your hair into sections. Use curling barrels to create loose waves and use a cool shot function to blow cool air into your hair for long-lasting results.
Step 4: Finish by tousling your hair with your fingers or a wide-toothed comb and applying a light-hold hairspray to keep the waves in place.
To achieve a quick natural blowout use the Luxx Air Pro™ 2 air wrap Curling Barrels.
Step 1: Wash and condition your hair as usual. Apply a heat-protectant spray or cream to safeguard your hair. Comb through your hair to ensure product distribution.
Step 2: Dry your hair until it is 80% dry. It's essential to have slightly damp hair for better results with the air-wrap curling barrels.
Step 3: You can create as many or as few sections as you prefer, depending on your hair thickness and length.
Step 4: Curl with the Air Pro™ 2 air wrap curler. Take one section of your hair and place the curling barrel at the end of your hair. Gently glide it upwards. Hold the barrel in place for a few seconds, then release the curl.
Step 5: For a more natural look, alternate the curl direction. Curl some sections towards your face (inward curls) and others away from your face (outward curls).
Step 6: Apply a small amount of hair serum or oil to add shine and reduce Fizz.
Let's Discuss Which Curl Direction Suits Different Face Shapes
1. Outward curls:
Face shape: Outward curls complement round or square face shapes. By adding volume and width to the sides of the face by using our Lightweight hair dryer, they create the illusion of a more oval or elongated shape.
2. Inward curls:
Face shape: Inward curls work well for oval or heart-shaped faces. These curls frame the face beautifully, softening the jawline and highlighting the cheekbones. They can also balance out a prominent forehead.
Embrace your individuality and empower yourself! These guidelines are mere suggestions, allowing you to be your authentic self.
Your personal preferences should always guide your styling choices, empowering you to express your unique beauty.
Have fun exploring various curl directions as it can be an exciting journey of self-discovery, helping you find what truly suits you. 
Remember, confidence is the ultimate beauty for everyone, regardless of gender. Celebrate the beauty of being yourself, and let your inner strength shine.
Effortless Styling is Made Possible With The Luxx Air Pro

™

 2 Lite and Amethyst Air Styler
Investing in a lightweight hair dryer can revolutionize your hair styling routine, making it easier and more enjoyable.
The Air Pro™ 2 Lite and Amethyst are two exceptional options that offer an excellent balance of power, efficiency, and lightweight design.
With their advanced features, multiple settings, and hair-friendly technologies, these hair dryers will help you achieve effortless styling and salon-quality results every time.
Say goodbye to heavy and bulky hair dryers and embrace the lightweight revolution for a truly extraordinary hair styling experience.
---