Inspiring Women Worldwide: Luxx Store's Impactful Collaboration with HEMISPHERE of United Airlines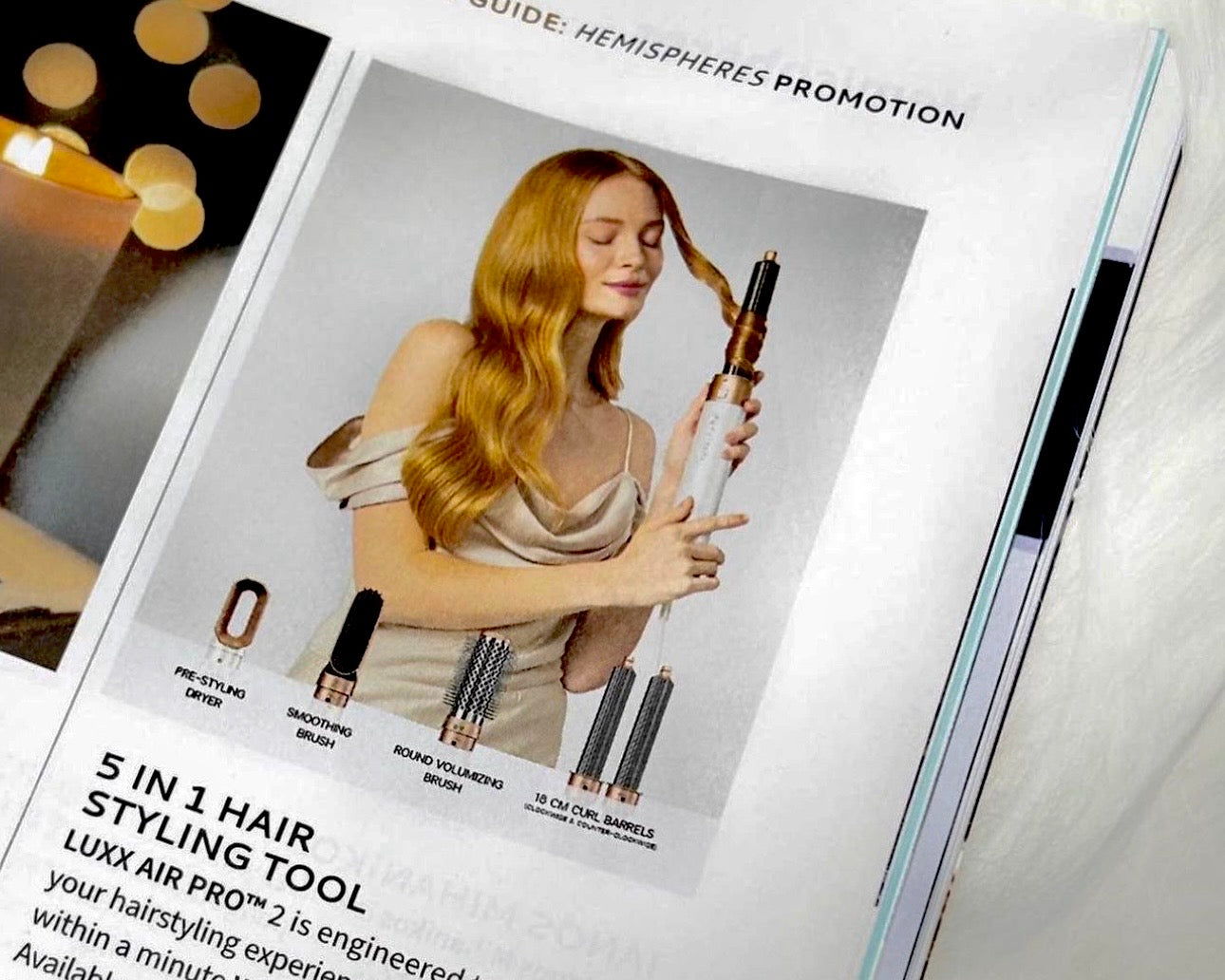 Luxx's Partnership with HEMISPHERE and United Airlines
We are thrilled to share the exciting news of our partnership with HEMISPHERE, a subsidiary of United Airlines.
Luxx, the renowned brand known for beauty innovation, has joined forces with HEMISPHERE to bring you an extraordinary collaboration that showcases our continued commitment to excellence in hair styling tools.
Luxx's Commitment to Effortless Beauty
At Luxx, we are committed to making every woman's dream of effortless beauty happen right at their fingertips. 
We are proud to introduce our revolutionary Luxx Air Pro™ 2 all-in-one hair styling tools, designed to deliver remarkable results that are vital to our extraordinary growth journey.
Your Support: Key to Our Success
As the Luxx team, we take great pride in our partnership with HEMISPHERE and United Airlines. We view it as a significant milestone in our brand's growth story. 
Our steadfast dedication to providing innovative and high-quality hair styling tools remains steadfast.
Luxx's Vision for the Future
Luxx's CEO expresses immense pride in partnering with HEMISPHERE and United Airlines, seeing it as a significant milestone in the brand's growth story.
Luxx is fully dedicated to providing state-of-the-art, high-end hair styling tools that empower and bring joy to women worldwide, ensuring they experience the best hair care solutions available. 
Whether you're a long-time Luxx Partner or a newcomer, we deeply value and appreciate your support. 
Without every one of you, we wouldn't be able to shine as brilliantly as we do now. 
Thank you immensely for your ongoing commitment.
Empowering Beauty Effortlessly
At the heart of our mission is to empower women, allowing them to embrace their beauty effortlessly.
Our mission aims to boost self-confidence and nurture self-expression, which deeply resonates with our diverse community, including professional stylists and everyday individuals like yourself.
As we forge ahead, our firm commitment lies in crafting a revolutionary range of products that epitomize beauty innovation for women, by women.
We always ensure that our products will enable you and everyone else to cultivate even greater self-love and appreciation, empowering you to embrace your authentic selves.
A Journey of Innovation and Customer Satisfaction
As Luxx enters a new phase of its journey through our partnership with HEMISPHERE and United Airlines, we are motivated by humility and a genuine desire to fulfill women's dreams of beauty innovation.
With a focus on developing products tailored for women, we strive to make their lives easier and more convenient. We cater to their unique needs and preferences.
Inspiring Beauty Enthusiasts Worldwide
With the feedback of Customers who've trusted and loved our Luxx Air Pro™ 2 and the unwavering support of dedicated customers like you, our journey is poised to inspire and capture beauty enthusiasts worldwide. 
Our ultimate goal is to enrich your lives, enabling you to unleash your true potential and embrace your distinct beauty.
Lastly, we wish to express our heartfelt gratitude to our Luxx community and partners.
Thank you for being an integral part of the Luxx family. 
We eagerly anticipate continuing our journey together, delivering the utmost in beauty innovation and ensuring your satisfaction.
---