Luxx's 3rd Anniversary: A Journey of Women's Empowerment by Women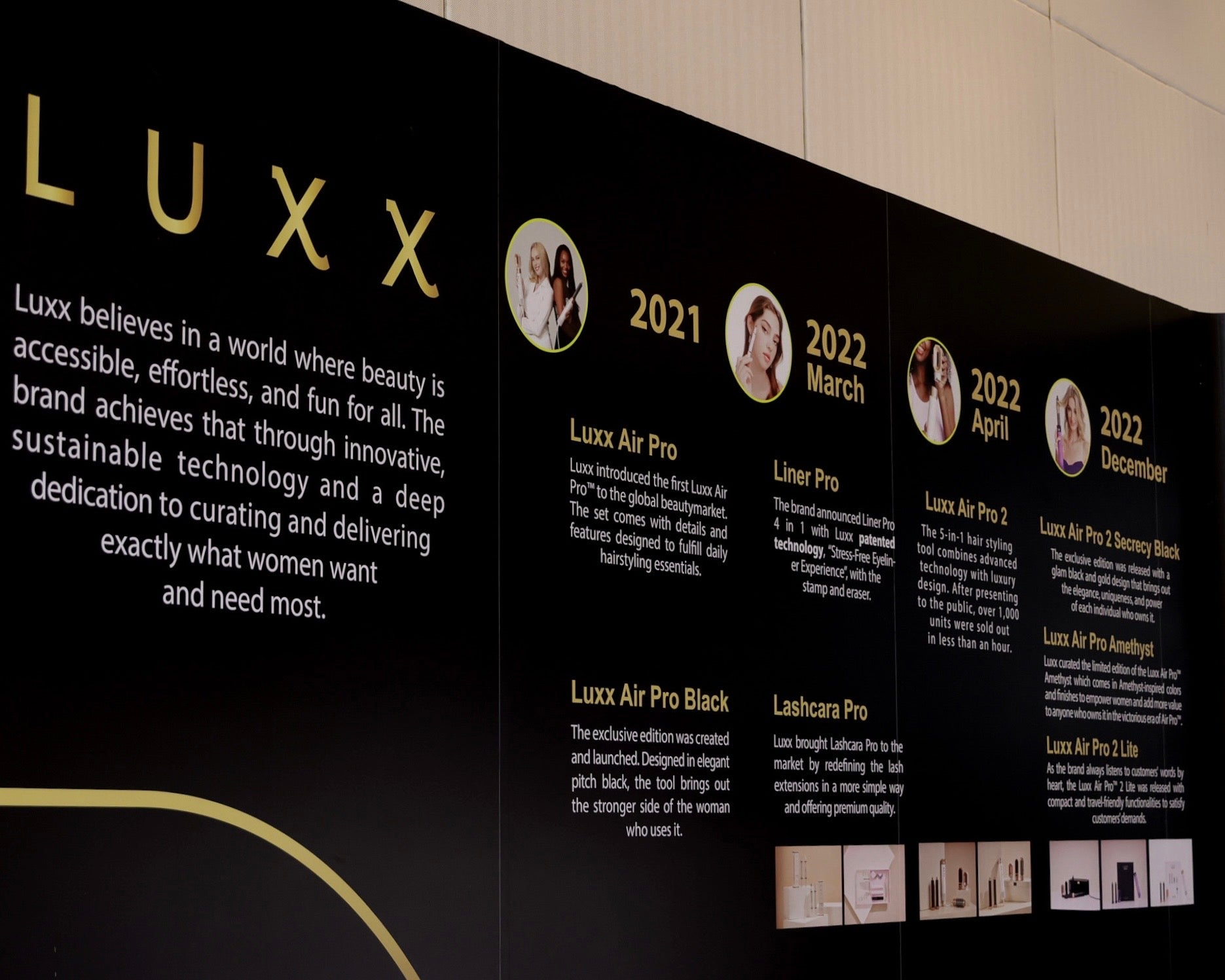 Luxx Store Celebrates 3rd Anniversary with Continued Commitment to Women's Empowerment Through Luxx Product
Luxx Store, a renowned brand that has gained women's trust and loyalty, is proud to commemorate the 3rd anniversary of its success. 
With a warm welcome from the audience, we established ourselves as a leader in empowering women through innovative beauty tools.
Additionally, this includes the highly acclaimed Air Pro™ 2.
Our commitment to women's empowerment is deeply rooted in its core mission.
LUXX STORE understands women's unique needs and desires regarding beauty tools. It has consistently delivered products that enhance their confidence and self-expression. 
LUXX's Hair Styling Tools, with advanced features and cutting-edge technology, are a testament to our brand dedicated to providing women with the tools they need to look and feel their peak selves.
Our dedication to women's empowerment extends beyond the products. We actively support initiatives and organizations that promote gender equality and empower women in various aspects of their lives. 
As LUXX celebrates its 3rd anniversary, the brand expresses thankfulness and gratitude to the loyal customers who trust its products, including the Air Pro™ 2.
Our mission is to positively impact the lives of women around the world by championing women's rights and providing growth opportunities.
"We are humbled and honored to celebrate our 3rd anniversary with such overwhelming support from women worldwide," said Pia Cyntia CEO of LUXX. "Our commitment to empowering women remains at the forefront of everything we do. The Air Pro™ 2 is a prime example of our dedication to providing women with beauty tools that inspire confidence, self-expression, and personal growth."
We are fully committed to empowering women, and the future holds great promise for those seeking innovative beauty tools that uplift and inspire.
Expanding Horizons in the Asia Pacific
With an understanding of the vast potential and increasing desire for luxury products in the Asia Pacific region, our prominent luxury brand has taken advantage of its expertise and customer-centric approach to entering significant markets like South Korea and Thailand.
By acknowledging and catering to Asian consumers' distinct preferences and requirements, we have customized our products and services to fulfill their diverse needs.
Within six months of entering the Asian market, we received the esteemed Beauty Spotlighted award from Vogue.
Unleashing Confidence with Innovative Hair Tools
LUXX acknowledges the profound significance of self-assurance in empowering women.
We have meticulously developed and manufactured an extensive collection of hair tools, employing cutting-edge technologies to enable women to embrace their authentic selves daily. 
Our company strives to offer high-quality, dependable, and intuitive hair tools, allowing women to seize command of their hair and confidently express their distinct styles.
Partnering with the UN Women
LUXX is committed to utilizing its achievements to bring about positive change in the lives of women across the globe. 
We have established a significant collaboration with a UN Women organization dedicated to advancing women's empowerment.
In alignment with our pledge, we contribute 3% of every global purchase to support the UN Women organization's essential programs and initiatives. 
These funds are essential in empowering women through diverse channels, including education, entrepreneurship, healthcare, and advocacy.
By joining forces with the UN Women organization, our team aims to foster a brighter future for women, enabling them to thrive and succeed in all aspects of life.
Encouraging Self-expression and Individuality
LUXX understands and values women's individuality, and our hair styling tools have been designed to celebrate their uniqueness.
LUXX's primary objective is to inspire women to embrace their innate beauty and express their true selves through their hairstyles.
As part of our commitment to this, our Hair Styling Tools feature state-of-the-art features, including temperature control, customizable settings, and innovative technology.
These advanced functionalities ensure optimal results while minimizing hair damage.
Continued Dedication and Future Endeavors
At LUXX, our commitment to empowering women extends beyond our current range of products.
We continuously strive to push the limits of technology and innovation to develop cutting-edge hair tools that cater to women's ever-changing needs and preferences.
By forming strategic collaborations and partnerships, we aim to expand our reach, make a more significant impact, and create opportunities for women within the beauty industry. 
We understand the significance of growth and adaptation. We are dedicated to empowering women on a larger scale, making a positive and transformative impact on their lives.
Luxx Community: Innovating for Women, Uniting Beauty with Innovation and Empowerment
LUXX takes pride in its commitment to innovation for women, driven by a deep understanding of their needs and the desire to eliminate daily hassles. 

With a vision of a world where beauty is accessible and effortless, we achieve this through sustainable technology and a dedicated approach to curating products that cater to what women want and need the most.
Our products have been designed to resonate deeply with our customers and fit seamlessly into our daily lives.
2021: Introducing Air Pro™ - Redefining Hairstyling Essentials
In 2021, we played an essential role in the beauty industry worldwide by releasing the first Air Pro™. The unique hairstyling set was meticulously designed with numerous details and functions to meet daily hairstyling needs.

The introduction of this product demonstrated LUXX's commitment to empowering women with the tools they need to style their hair effortlessly.
In addition, a limited edition with a beautiful pitch-black design was created the same year to symbolize female strength and confidence.
Advancing Beauty Innovation: Liner Pro and Lashcara Pro
Continuing our mission of beauty innovation, our team launched Liner Pro, featuring their patented technology, the "Stress-Free Eyeliner."
Our revolutionary eyeliner was created with both beginners and experts in mind, emphasizing vegan, cruelty-free, and non-toxic qualities.
Liner Pro's remarkable success further solidified LUXX's reputation as a brand dedicated to meeting diverse beauty needs.
Building on this success, we revolutionized lash extensions by introducing Lashcara Pro, which simplified the application process and made it accessible to everyone.
Embracing the Philosophy: Luxx Air Pro™ 2 and Its Resounding Success
Fully embracing their philosophy of uniting beauty with innovation and women empowerment, our team unveiled the Air Pro™ 2 Hair Styling Tools.
This remarkable release witnessed a staggering response, with over 1,000 units sold in less than an hour.
Our innovative Air Pro™ 2 Air Styler embodies LUXX's commitment to empowering women, adding value to those who own it during this victorious era.
Expanding Horizons: Luxx Air Pro™ 2 Secrecy Black, Amethyst, and Lite Versions
Meanwhile, within the same year, we expanded its horizons by releasing the Air Pro™ 2 Secrecy Black Hair Styling Tools and Amethyst editions.
These variants intend to embody female strength and confidence, empowering women while offering enhanced value to their owners.
Additionally, we introduced the New Lite version, featuring compact and travel-friendly functionalities, catering to individuals on the go.
Summarily: Luxx Store's 3rd Anniversary - A Expedition Embracing Women's Empowerment by Women
Our team is filled with joy as we commemorate our 3rd anniversary, symbolizing a remarkable journey of empowering women through groundbreaking beauty tools. 
LUXX's commitment and dedication to women's empowerment reside in our core mission. The beauty industry always seeks to understand and fulfill women's unique needs and desires.
At the heart of our success lies the highly acclaimed Air Pro™ 2, a cutting-edge and advanced beauty tool that exemplifies our commitment to enhancing women's self-confidence.
Beyond our product line, we actively support initiatives and organizations that promote gender equality. 
We aim to make a positive impact on women's lives worldwide. As a token of our gratitude, we express our heartfelt appreciation to our loyal customers by offering exclusive discounts and special promotions.
We proudly invite women from all walks of life to join us in this celebration and explore our diverse range of innovative beauty tools.
Each product has been designed to enhance natural beauty and empower women to embrace their individuality. 
With an unwavering commitment to women's empowerment, we are determined to inspire and uplift women through our innovative beauty tools. Having this confidence will enable them to radiate confidence.
In conclusion, our third anniversary marks a significant milestone, representing our steadfast dedication to women's empowerment.
It foreshadows a future filled with innovative beauty tools that will uplift and inspire women across the globe. 
We extend our heartfelt thanks to our cherished Luxx community, partners, and customers, as your love and support have been instrumental in our journey.
---