Winged Perfection: Stamp Eyeliner, Elevate Your Eye Makeup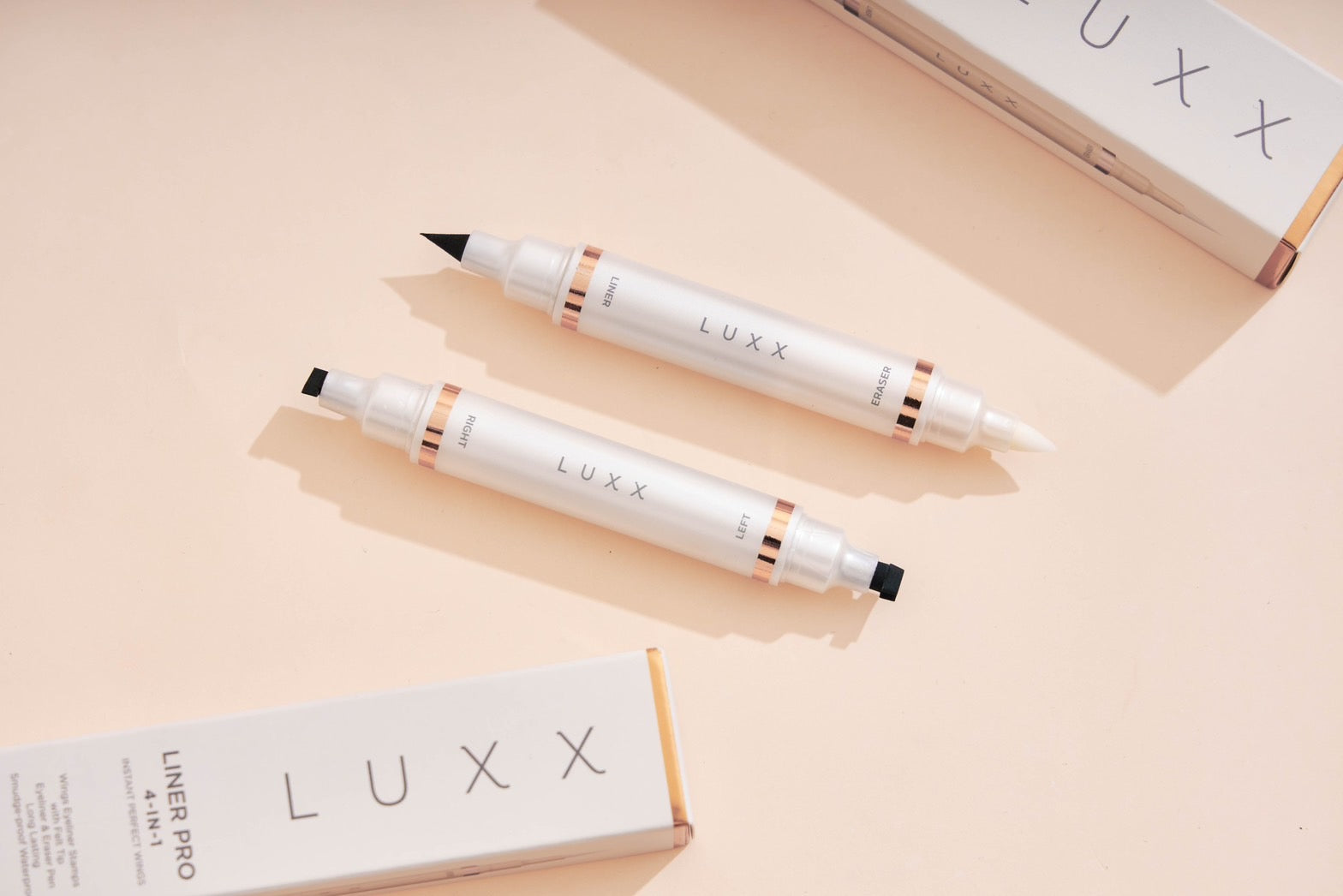 Introducing Stamp Eyeliner: Your Path to Effortless Elegance
Creating flawless winged eyeliner has never been easier, thanks to the innovative solution of stamp eyeliner.
Stamp eyeliner's effortless design offers a quick and efficient way to achieve that perfect winged look, elevating your eye makeup game to new heights.
The Art of Effortless Winged Eyeliner
Gone are the days of struggling to match the angles and curves of your eyeliner wings. Stamp eyeliner simplifies the process, making it accessible to makeup enthusiasts of all skill levels.
Whether you're a seasoned makeup artist or a beginner, this tool will become your secret weapon for achieving symmetrical and precise winged eyeliner every time.
How Does Stamp Eyeliner Work?
Our Liner Pro beauty tool comprises two dual-ended pens, each offering distinct functions. 
You'll find a meticulously crafted wing stamp suitable for left and right eyes. On the other end lies a conventional eyeliner pen and an eraser pen. 
To achieve that enviable winged eyeliner flawlessly, adhere to these step-by-step instructions.
Step-by-Step Guide to Attaining Flawless Winged Elegance
Commence your journey to striking eyeliner by applying your preferred eyeshadow or eye primer. This initial layer creates an ideal canvas, ensuring optimal adherence and durability of your eyeliner.
Step 1: Lay the Foundation
Start by applying your regular eyeshadow or eye primer to create a smooth base for your eyeliner. 
This will ensure your eyeliner adheres well and stays in place throughout the day.
Step 2: Stamp the Wing
Align the wing stamp at the outer corner of your eye and gently press it onto your eyelid. The stamp creates a clean and uniform wing shape, saving you precious time in the morning routine.
Step 3: Connect the Lines
Using the eyeliner pen, carefully draw a line along your upper lash line, connecting it to the stamped wing.
This step allows you to customize the thickness and style of your eyeliner according to your preference. 
If needed, fill in any gaps or spaces between the stamped wing and the eyeliner line. This will ensure a seamless and cohesive look.
Step 4: Repeat on the Other Eye
Follow the same steps on your other eye to achieve a beautifully balanced winged eyeliner look. Don't worry about mistakes—Luxx Liner Pro Eraser has you covered. It erases errors with one swipe and can be used multiple times!
Why Choose Stamp Eyeliner?
Stamp eyeliner offers a range of benefits that set it apart from traditional eyeliner techniques:
Time-Saving Solution
Say goodbye to the frustration of uneven wings and time-consuming touch-ups. With stamp eyeliner, you can achieve professional-looking results in a fraction of the time.
Consistent Results
The wing stamp ensures that both eyes are symmetrical, eliminating the struggle of trying to match the angles freehand.
Beginner-Friendly
Stamp eyeliner is a game-changer for those who are new to makeup application. Its simplicity and ease of use make it accessible to everyone.
Creative Versatility
While the stamp provides a guideline, you still have the creative freedom to adjust the eyeliner's thickness and length according to your style.
Long-Lasting Wear
Stamp eyeliner formulations are designed to be smudge-proof and long-lasting, ensuring your winged perfection stays intact throughout the day or night.
Elevate Your Makeup Routine
Experience the precision and convenience of Stamp Eyeliner for your eye makeup routine.
This innovative tool creates flawless winged eyeliner, making it a must-have in any makeup collection.
Whether you're gearing up for a special occasion or just want to add elegance to your everyday look, the Luxx Liner Pro 4in1 ensures perfect winged lines.
And for an extra touch, check out the Lashcara Pro Kit to spice things up and enhance your makeup game.
---