How to Apply Eyeliner for Different Styles - Luxx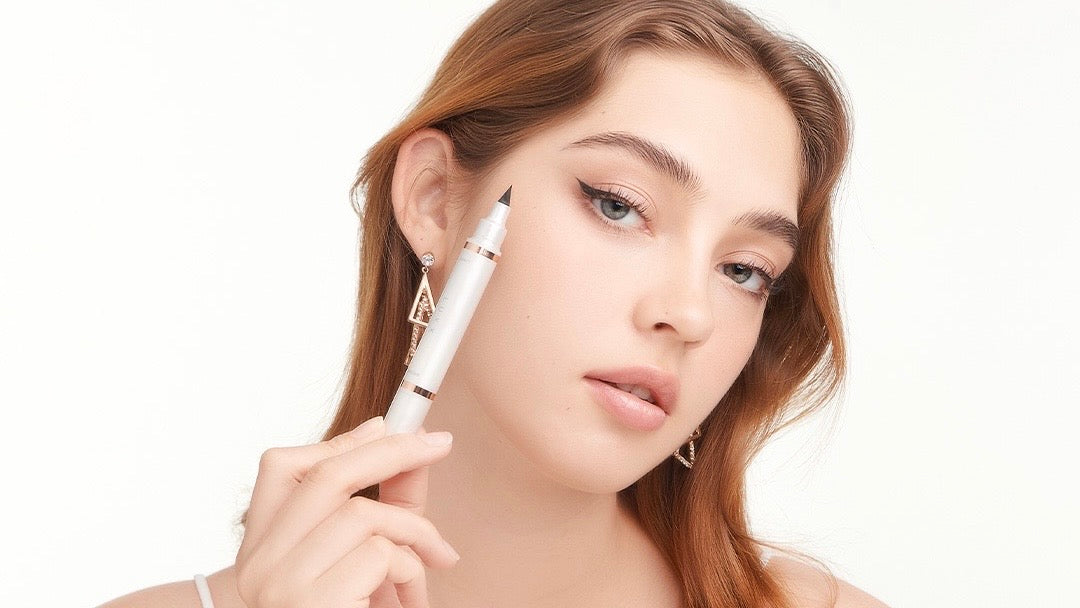 Introducing the Stamp Liner Pro 4in1 with Eco-Friendly Eraser Tip
The Stamp Liner Pro 4in1 eyeliner provides precision and convenience. It features a dual-ended design with a stamp, fine liner, and eraser.
The stamp makes it easy to create symmetrical winged eyeliner in seconds, while the fine liner lets you draw precise lines along your lash line.
In this article, we will show you how to apply eyeliner with Stamp Liner. Starting by making sure your eyelids are free from oils.
This will help the eyeliner adhere better and last longer. Gently shake the Stamp Liner Pro 4in1 to activate the ink.
Step 1: Winged Eyeliner
This is How to Apply Eyeliner, for a classic winged eyeliner look, position the stamp at the outer corner of your eye and align it with the angle of your lower lash line.
Press the stamp gently onto your eyelid and hold it for a few seconds to transfer the wing shape.
Repeat the same process on the other eye for symmetrical results. Now, take the fine liner side and draw a thin line from the inner corner of your eye, connecting it to the winged stamp.
Fill in the gap and adjust the line thickness according to your preference.
Step 2: Cat Eye
This is how to apply eyeliner for beginners, who wish to create a trendy cat eye look. Follow the same steps as winged eyeliner.
However, when using the stamp, make sure to position it slightly higher, angling it upward towards the end of your eyebrows.
 
The result will create a more dramatic and elongated effect. Connect the stamp to your lash line using a fine liner and adjust the thickness to your liking.
Step 3: Erasing Mistakes
The Stamp Liner Pro 4in1 includes an eraser tip, making it easy to correct mistakes. To use, flip the liner and use the eraser to remove or adjust excess or misplaced eyeliner.
Our products are eco-friendly and cruelty-free, so we ensure precise results without unnecessary waste.
Luxx Liner Pro 4in1: The Ultimate Tool for Precision and Creativity
Stamp Liner: Achieve Perfect Winged Liner in Seconds
Say goodbye to uneven and lopsided wings! The Luxx Liner Pro 4in1 features a unique stamp liner that allows you to create the perfect winged liner in seconds.

Whether you're a makeup novice or a seasoned pro, the stamp liner takes the guesswork out of symmetrical wings. And this is a how-to-apply eyeliner step-by-step.

It's easy to align the stamp with the outer corner of your eye, press down gently, and voila! You'll have flawless wings that elevate your eye makeup game beyond imagination.
Eraser Tip: Correct Mistakes with Precision
We all make mistakes, but that doesn't mean we have to start our makeup look from scratch. The Luxx Liner Pro 4in1 has an eraser tip that precisely corrects any smudges or mistakes.
No more messy makeup removers or cotton swabs - simply glide the eraser tip over the area you want to correct, and watch as it effortlessly removes any imperfections.
This feature is a game-changer for a clean and polished look without hassle.
Liner Pen: Unleash Your Creativity
The Luxx Liner Pro 4in1 goes beyond creating flawless wings and fixing errors. It also functions as a liner pen, empowering you to explore your creativity and experiment with different eyeliner styles.
Whether you lean towards a timeless cat-eye or a daring graphic liner, this adaptable tool has you covered.
Its seamless and accurate application grants you the liberty to showcase your unique personality and craft mesmerizing eye looks that capture attention.
Even while on the go, a quick touch-up during the day with the Luxx Liner Pro ensures your makeup remains stunning, allowing you to slay all day, every day.

Here's a step-by-step guide on how to apply winged eyeliner:
Start by applying eyeliner to your upper lash line, starting from the inner corner of your eye with the stamp of Liner Pro 

4in1.

Decide the length and angle of your wings by imagining a line extending from the outer corner of your eye towards the tail of your eyebrow.

Connect the wing to your lash line by drawing a line that gradually thickens towards the outer corner.

Fill in any gaps and ensure a smooth, consistent line along your lash line.
Remember to practice and be patient. With time, you'll master winged eyeliner effortlessly.
Elevate Your Makeup Game to New Heights with These Game-Changing Products!
To wrap things up, the Luxx Liner Pro 4in1 is the ultimate solution for precision and unleashing creativity in your makeup routine, making this How to Apply Eyeliner article the most accessible guide ever.
With its stamp liner for flawless wings, eraser tip for accurate corrections, and liner pen for artistic expression, this innovative beauty tool will transform your eyeliner application.
Embrace the Luxx Liner Pro 4in1 and pair it with the Luxx Lashcara Pro kit for quick lash extensions at home.
---