The Perfect Eyeliner to Wear All Day, Every Day. Your Ultimate ZERO-TIME Eyeliner Stamp Kit!
Designed to give you the dark, precise, winged liner in no time that lasts all day long, our long-lasting, waterproof, and smudge-proof formula offers you a stress-free eyeliner experience. 
The non-toxic, paraben-free formula of the eyeliner stamp makes it gentle for your sensitive eyes.
Our Wing Stamps come in three different sizes so you can achieve any of your desired eye looks in no time. The micellar eraser tip is here to back up the little mistakes we all make while applying our liner! 
We got you whether you want a subtle or a snatched, dramatic look! With Luxx Liner Pro, you can rock any eye look in minutes.
Eyeliner Stamp:
1. Effortless Symmetry: Get balanced wings easily with Luxx Liner Pro's stamps for both sides.
2. Various Wing Styles: Choose from three wing styles that match your eye shape for a unique look.
3. Long-lasting Wear: Our smudge-proof and waterproof formula keeps your wings looking great all day without any smudging or fading.
4. Quality Ingredients: Luxx Liner Pro uses high-quality, cruelty-free, and non-toxic ingredients for a guilt-free beauty experience.
Eraser with Liner Dual Pen:
1. Precise Touch-ups: Our eraser pen's fine tip (The world's first patented technology) allows for precise refining of eyeliner edges, defining brows, fixing mascara smudges, and correcting lipstick bleeds with ease.
2. Effective Makeup Removal: Our innovative micellar technology effectively removes waterproof makeup, while the gentle plant extracts leave your skin nourished, soothed, and refreshed after every use.
3. Convenient Design: Our compact and portable design is perfect for quick touch-ups on the go throughout the day, reducing the need for excessive waste and mess.
4. Easy to Clean: To make it as good as new, gently press the eraser onto a tissue to remove any dirt. Clean the tip with a makeup wipe for a hassle-free cleansing experience. Enjoy up to 500 swipes.
Key Benefit:
Our Luxx Liner Pro ensures perfect symmetry and intense color with every use, providing a beautifully finished look.

Effortlessly create the perfect feline flick with our easy-to-use eyeliner stamp, requiring minimal effort for maximum impact.

Our liquid eyeliner is designed to create a bold, clean line that complements the stamped wing and enhances the natural shape of your eyes.

The wing-shaped stamp applicator guarantees flawlessly symmetrical wings each time, making it easy to express your unique style effortlessly.

Enjoy a long-lasting, highly pigmented formula that is resistant to smudging and water, providing a reliable and durable finish throughout the day.

The flexible felt tip ensures smooth and precise application, giving you complete control over your desired look.
Available Sizes:
8mm size: The ideal for a subtle, barely-there wing, measuring 8mm long and 3mm at its thickest, creating a delicately refined appearance.
10mm size: The most popular size, striking the perfect balance between subtlety and allure. It measures 10mm long and 4mm at its thickest, making it a versatile choice for various occasions.

12mm size: The ultimate choice for a bold, dramatic, and full-glam look. With measurements of 12mm long and 5mm at its thickest, it ensures a lasting impression, perfect for nighttime wear and special events.
Ingredients: Water, PVP, Styrene/acrylates, Copolymer, Glycerin Triethanolamine, Pigment
3 Steps to Perfect Liner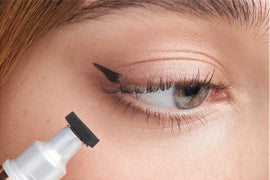 Step 1
Stamp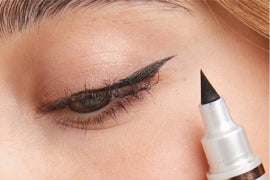 Step 2
Line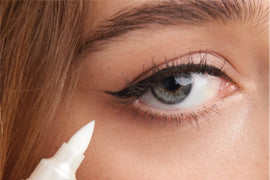 Step 3
Erase to sharpen wing (optional)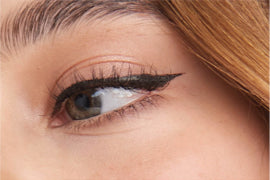 Step 4
Perfect Wing Liner
Lashcara Pro Kit


$29.00

MonkProtect™


$0.97